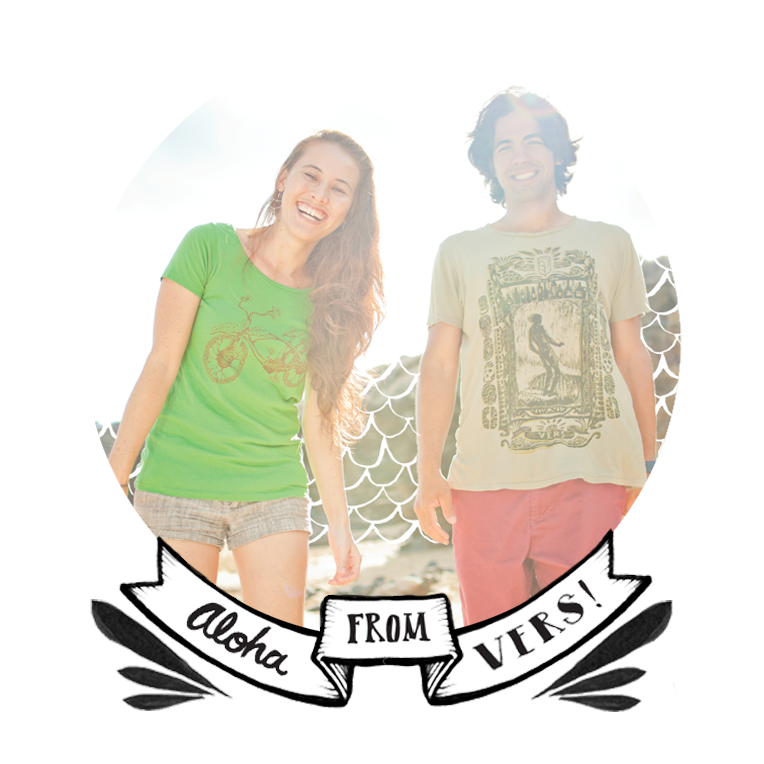 Hello friend! We are Matthew and Roxanne Ortiz of VERS. We are a fun-loving couple who, when not out surfing or skating, LOVE to make sweet, sweet art. What kind of art you ask? We are best known for our hand-drawn illustrative style. Our signature line of clothing, prints, and notecards is an expression of our intricate and playful aesthetic. Trained in painting and printmaking, we also enjoy making work for gallery and museum shows. As part of the Pow Wow Hawaii family, we paint murals too! Yes, we are up for all sorts of artistic adventures!
Please contact us if you would like to collaborate on a project or would like to commission a work of art. We also provide visual branding services, such as logo, clothing, and print design. Don't hesitate to message us with a question. We would love to work you!
Our art and designs are made in a little workshop in Kakaako, Honolulu. We are happy to be part of Lana Lane Studios, a warehouse maker-space of artists and creators. Feel free to stop by and say hi if you're in the area. Contact us to make an appointment or get directions :)
Follow us on Twitter, Facebook, and Instagram to get sneak-peeks and a behind-the-scenes look!
Follow @VersHawaii
Vers Hawaii





*Fashion photography by Dallas Nagata White (www.dallasnagatawhite.com)


copyright.all rights reserved.2008